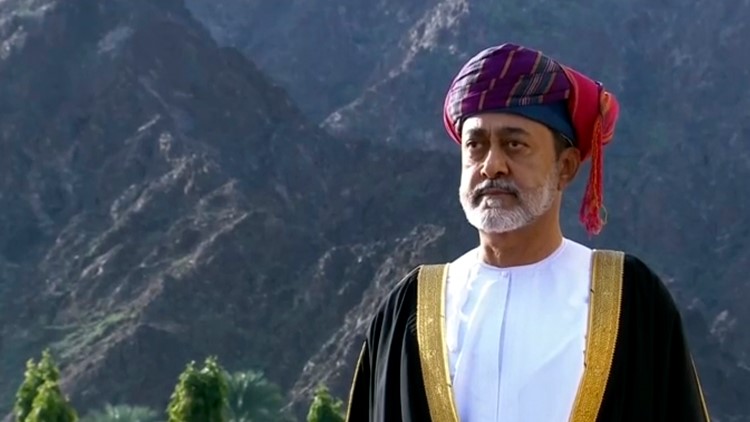 蘇丹 海森國王
HIS MAJESTY SULTAN HAITHAM BIN TARIK
全名:
阿曼王國

面積:
309,500平方公里,約台灣8倍大

人口:
四百萬人口(約台北市人口)

邊界:
沙烏地阿拉伯676公里,阿拉伯聯合大公國410公里,葉門288公里

海岸線:
3,165公里

氣候:
四月到九月是夏季,氣候炎熱且潮濕;十月到四月初為冬季,氣候涼爽宜人。

首都:
馬斯開特

語言:
阿拉伯語(官方語言)、英文

宗教:
伊斯蘭教

國碼:
+968

時區:
比台灣慢4小時

匯率:
里奧; 等同美金2.6元

電壓:
220/240 瓦

工作時間:
早上8:30-9:00上班,5:30-6點下班,週末是週五週六。

天然資源:
石油,銅,石棉,大理石,鍛石,鉻,石膏,天然氣

國旗:
呈長方形,長與寬之比約為3:2。由紅、白、綠三色組成。紅色部分在旗面上構成橫的"T"字形圖案,右側上方為白色,下方為綠色。旗面左上角繪有黃色的阿曼國徽。紅色象徵吉祥,是阿曼人民喜愛的傳統顏色;白色象徵和平與純潔;綠色代表大地。阿曼國徽:圖案由一把阿拉伯飾刀,兩把彎刀和一條佩帶組成,表示阿曼人民保衛國家主權和獨立的決心與力量。

歷史:
阿曼的歷史可追朔至5000千年前;在西元前三世紀時於此地區建立了一個稱為Magan的帝國,即為阿曼的前身,它以生產銅和乳香而聞名。在西元前五百六十年到西元兩百年之間,阿曼地區曾受波斯人所統治,到西元六世紀時,一些信仰回教的部落才將波斯人逐出。到了西元七世紀中整個阿曼地區皆信奉回教。在1507年時葡萄牙人佔領了阿曼,到1650年時,Sultan bin Saif 率眾驅逐葡萄牙人,阿曼正式獨立成為一個王國。多條海陸貿易路線交錯於阿曼,貿易路線曾遠達東非洲與中國。在十七世紀時阿曼可說是個強國,當時統治的領土遠達東非的桑吉巴、部份的波斯和今日的巴基斯坦。
前任國王Sultan Qaboos於1970年即位(卒於2020年),當時他只有30歲,因接受西方教育使他了解現代化的重要,Sultan Qaboos即位後大力改革,將阿曼建設成一個現代化國家。

Full country name:
Sultanate of Oman

Area:
309,500 sq km (8 times bigger than Taiwan)

Population:
4 million (same as the population of Taipei)

Border countries:
Saudi Arabia 676 km, U.A.E. 410 km, Yemen 288 km

Coastline:
3,165 km

Climate:
Summer is between April to September and the weather is hot and humid. Winter begins around October and continues to April, and the weather is cool and pleasant.

Capital city:
Muscat (population 380,000)

Languages 
Arabic (official), English

Religion:
Islam

Country Code:
+968

Time:
GMT+4 ( 4 hours later than Taiwan)

Currency:
Omani Riyal (R.O.) ; R.O. 1 equals US$2.58

Electricity:
220/240 volts

Working hours:
Working day starts at around 8.30am or 9am, and finishes at 5.30pm or 6pm. Note that weekend in Oman are on Friday and Saturday.

Nature resources:
petroleum, copper, asbestos, marble, limestone, chromium, gypsum, natural gas

National Flag:
Three horizontal bands of white, red, and green of equal width with a broad, vertical, red band on the hoist side; the national emblem (a khanjar dagger in its sheath superimposed on two crossed swords in scabbards) in white is centered near the top of the vertical band.

History:
Little is known about Oman's preIslamic past but it is clear from recent archaeological discoveries and research that early civilizations existed at least 5000 years ago.
Sumerian tablets refer to a country named "Magan" as a source of copper. It seems certain that they referred to Oman. Evidence from excavations near Sohar shows that the copper mining and smelting industry was well developed by the year 2000 BC.
In the early 16th century after the Portuguese under Vasco de Gama had discovered the sea route round the Cape of Good Hope to India, they occupied Muscat for a century and a half in order to dominate the trade which had until then been an Arab monopoly. The Portuguese were expelled from Muscat in 1650 by Sultan bin Saif al-Yarubi. Oman reached its zenith as a regional power with possessions on both sides of the Gulf and in East Africa. His Majesty Sultan Qaboos was Sultan of Oman from 1970-2020. His reign was the beginning of a bright new era that renewed Oman's historic glories and opened a new chapter of development, prosperity and social and economic progress.