世界第二大貨櫃船停靠薩拉拉港
World`s second-largest container ship received at Salalah Port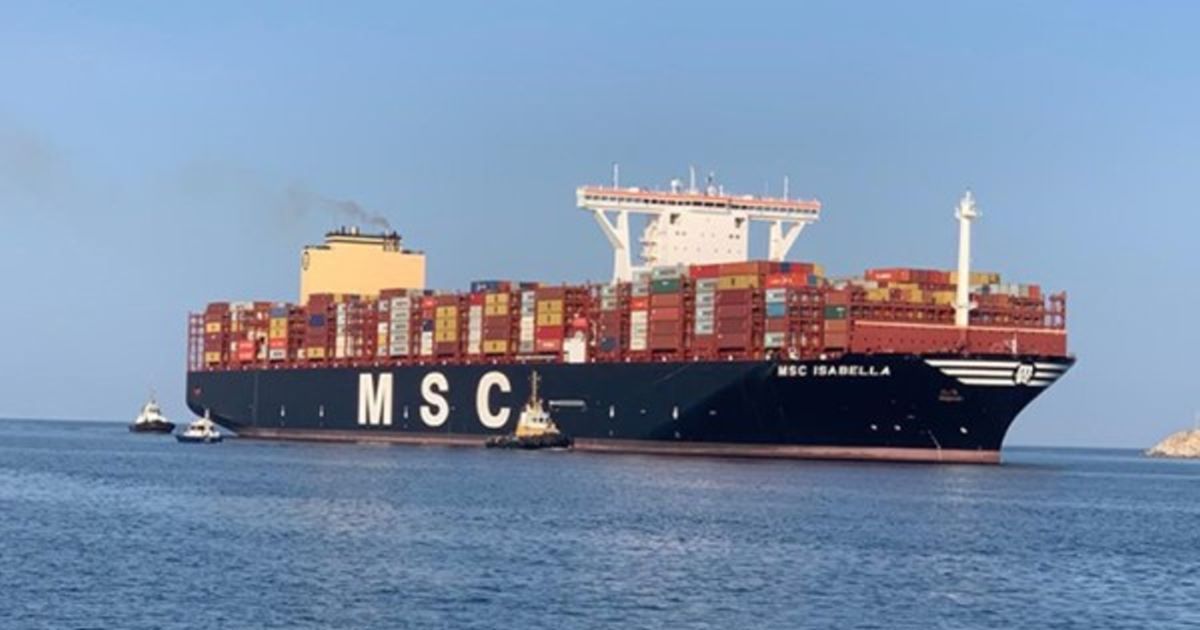 MSC Isabella號於2020年5月8日停靠薩拉拉港,這是有史以來阿曼的最大的貨櫃船。該船屬於Gulsun級,也是MSC船隊中最大的,也是世界第二大貨櫃船。

該船由MSC部署在亞歐地區聯盟中,是世界上最省油和最環保的貨船之一,並擁有10艘同級姊妹船。 直到最近,此類船隻還是世界上最大的貨櫃船。

薩拉拉港CEO馬克·哈迪曼說:"我們很榮幸能讓MSC Isabella停靠薩拉拉。 此次停靠表明了我們即繼續成為該地區主要的貨櫃吞吐樞紐之一,並為全球運輸和供應鏈生態系統的成員。 物流是阿曼政府經濟多樣化計劃的重要項目。 薩拉拉港已經並將繼續在這一經濟多樣化戰略中,繼續發揮至關重要的作用,並正在與所有利益相關方合作,以確保我方的能力,得以適應客戶不斷變化的需求。"

這次ASYAD首席執行官Abdulrahman bin Salim al Hatmi說:"世界上最大的船抵達薩拉拉港,為阿曼王國的物流業感到自豪,因為這凸顯政府在阿曼港口投資的重要性。因為它們是該國最重要的經濟和服務設施之一,表示該港口可以在最高水準上,滿足符合國際標準的港口的大型船舶的要求。"

他還表示:"這一成就彰顯了與我們的合作夥伴APM碼頭(世界領先的貨櫃船運營商)之間戰略合作夥伴關係的成功,並且是提高港口處理量的結果。"

該船已於2019年8月交船給MSC,長約400m,容量為23,656 TEUS。 該船的大小大約等於首尾相連放置的4個足球場的長度,如果以攜帶的所有貨櫃都放在一條直線上,那條直線將延伸144公里。

Muscat: Salalah Port received MSC Isabella which is the biggest container vessel to ever call Oman on May 8, 2020. The vessel which belongs to the Gulsun class is also the biggest in the MSC fleet and is the second-largest container vessel in the world today.

The vessel is deployed by MSC in the 2M (Maersk and MSC) alliance on the Asia Europe sector and is one of the most fuel-efficient and ecofriendly vessels in the world and has 10 sister vessels of the same class. Till recently, this class of vessel was the biggest container vessel in the world.

Mark Hardiman, CEO for Port of Salalah stated, "We are honoured to receive MSC Isabella in Salalah. This vessel call demonstrates our ambition to continue to be one of the major container hubs in the region and an integral part of the global transport and supply chain ecosystem. Logistics is an important pillar in the economic diversification plan of the Government of Oman. Port of Salalah has and intends to continue to play a vital role in this ambitious economic diversification strategy and are working with all stakeholders to ensure that we expand our capacity and capabilities to cater to the evolving needs of our customers."

On this occasion, Eng. Abdulrahman bin Salim al Hatmi, CEO of ASYAD, said, "The arrival of the world's largest ship at the Port of Salalah gives great pride to the logistic sector in the Sultanate of Oman, as this demonstrates the significance of the Government's investments in Omani ports as they are one of the most important economic and service facilities in the country so that they can be at the highest level of readiness to meet the requirements of mega-ships that use ports which satisfy international standards".


He also stated, "This achievement highlights the success of the strategic partnership with our partner APM Terminals, the world's leading container ship operator, and is the result of the great efforts to raise the volumes that the port handles."

The vessel was delivered to MSC in August 2019 is about 400m long and has a capacity of 23,656 TEUS. The size of the vessel is approximately equal to the length of 4 football fields placed end to end and if all the containers she can carry were placed in a single line, that line would stretch for 144km.