阿曼2040願景 國家優先事項
OMAN VISION 2040 NATIONAL PRIORITIES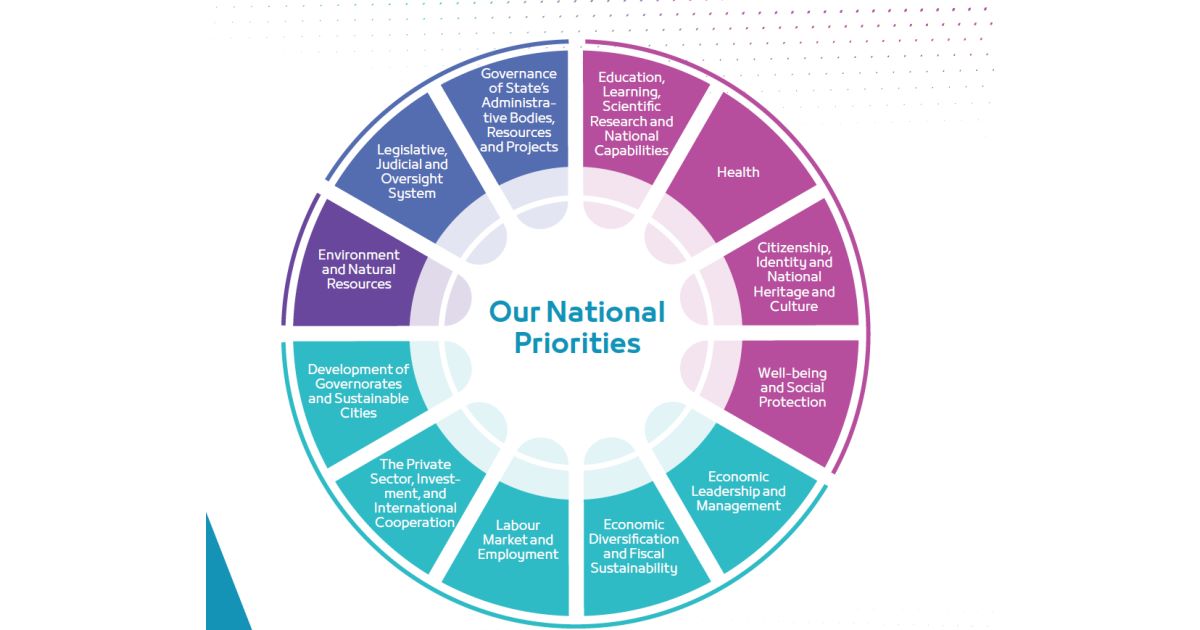 教育,學習,科學研究和國家人才方向
戰略方向
包含教育,終身學習與科學研究,形成知識社會且具有競爭力的國家人才
目標
建立擁有公共夥伴關係的高品質教育體系
根據國家和國際標準對教育系統進行管理和評估而形成的獨立系統
增值課程;謹記伊斯蘭教原則和阿曼身份,從阿曼的歷史和遺產中汲取靈感,跟隨永續發展和未來技能要求,並支持教育方式的多樣性
增強教育部門的人員能力系統
用於科學研究,創意和創新有效的國家系統,有助於建設知識型經濟社會
多元化和教育科研可持續的資金來源
在國家與全球範圍內,具有競爭能力和技能的國家人才
健康方向
戰略方向
採用全球標準的領先衛生系統。
目標
一個享有永續健康的社會,堅信"健康是所有人的責任"。

具有品質、透明、公平性和問責制的分散式衛生系統。
醫療保健系統的多樣化和永續的資金來源。
合格的國家人才和能力,是健康科學研究和創新的先驅。
技術醫療系統和服務,以及各個級別的高質量預防和臨床醫療保健。

公民、身份、國家遺產和文化
戰略方向
發展一個以自身感到自豪的社會和強化公民身份的文化。
目標
在一個以自身公民身份和文化自豪的社會,致力於在全球範圍內保護、記錄和露出遺產訊息。

復合的機構和社區夥伴關係系統,可增強公民身份和社會凝聚力。
以知識為基礎的技術型社會,並與新知識發展同步化。
對遺產、文化和藝術的永續投資,有助於國民經濟的增長。
建立一個透過評估、分析、利用、產生和傳播知識的社會。
在相互理解、共處與和平方面處於全球領先地位的社會。
認識自身的權利,並了解自己的義務的社群。
增強社會意識並為社會和經濟發展做出貢獻的專業媒體。
福利與社會保障
戰略方向
永續生活之道
目標
一個有著積極、永續與公平的社會安全網絡保障的社會。

一個有意識與凝聚力的社會,對婦女、兒童、青年、殘疾人和最弱勢群體在社經上的支持。
先進社會的服務和計劃滿足社會需求。
針對弱勢族群的綜合保護計劃,使他們能夠自力更生並為國民經濟做出貢獻。
政府部門、私營部門和民間機構在社會發展領域之間的有效夥伴關係。
一個能夠有效參與永續發展的社會團體。
為體育運動創造有利的環境和系統,從而為經濟做出貢獻,並具有全球競爭力。
經濟領導與管理
戰略方向
使阿曼成為有能力的經濟領導地位,並具有附合機構框架內運作的能力。
目標
政策層面上的唯一指標單位,推動並實現經濟發展和社會正義的目標。

根據特定的績效指標確立威信,根據具體的績效指標,確認方針並對所發展需求立即反應。
復興國政的行政領導風範,具備因應未來的需求,洞悉市場動態與變化的能力。
與最新時局並駕齊驅的有效且有利的經濟立法體系。
經濟多元化與財政永續性
戰略方向
多元化、永續與競爭性經濟,利基於知識和創新的多元化下,在整合架構內運作,適應工業革命,並實現財政永續性。
目標
實現經濟多樣化的主導產業與次產業整合,每五年一次。

多元化、整合性和競爭力的經濟是未來導向,並透過創新和企業家精神驅動。
精算、整合和永續的財政、貨幣和經濟政策;以及有效運行公共收入的預算。
靈活與時俱進的監管環境可確保機會均等。
先進技術的基礎設施,為所有部門提供支援,並能夠適應最新發展和網路安全挑戰。
整合各個部門和機構之間的有效的研發機制。
勞動力市場與就業
戰略方向
一個充滿活力的勞動力市場能吸引人才,並能反應出人口、經濟、知識和技術的變化。
目標
具有技能、高產值的勞工和積極工作文化的勞動力市場。

在清晰,標準化的招聘政策中,吸引人才與有技能的勞動力的勞動力市場。
以效率和生產力為基礎,並具有主動性和創新性的就業、資格、晉升和獎勵制度。
積極參與德的工作環境中,有著專業標準規範勞動力市場的法律和規則。
私營部門、投資與國際合作
戰略方向
私營部門推動與世界經濟融合,發展成有競爭力的經濟體。
目標
競爭激烈的商業環境吸引投資者,在此環境中,政府將扮演監管角色,並成功進行高效和無縫的管理。

靈活和便利的融資模式,與全球同步發展並滿足投資需求。
一個有能力具競爭性的私營部門,可引領經濟並同時觀察經濟和社會面向發展。
大型企業與中小企業之間的伙伴關係和融合。
政府與私營部門之間的積極合作關係,提高了生產效率。
在貨物和地理條件的多元化進出口,大幅度運用阿曼的全球地位和地理位置。
全球生產和服務鏈整合的獨特經濟特徵。
中央與地方的永續發展
戰略方向
地理上的永續發展支持權力下放,開發地方中心城市,妥善永續使用土地。
目標
均衡和公平的發展,增強城市中央間的的競爭和比較優勢。

使地方社區能夠制定其社經濟優先事項,並在行政和經濟權力下放的框架內運作。
一個有效的居住制度,引導永續的城市發展,以容納不斷增長的人口,並提供公共服務和公用事業的使用權。
高度保護的城鄉地區、文化和自然遺產保護區,有靈活應對氣候變遷影響的能力。
智慧、永續發展的城市和重點鄉村,是個擁有高品質的居住工作活動的城市。
多元化和便利的交通方式,可與世界一流基礎設施與穩健城市發展相結合。
永續的自然資源與環境
戰略方向
平衡利用和永續發展自然資源,用以支持能源安全和國民經濟
目標
糧食和水安全基於可再生資源,先進技術以及對阿曼的戰略位置及其生物多樣性的理想開發。

在環境,經濟和社會需求之間取得平衡,並在永續發展規則內運作保護環境。
永續利用自然資源,實現高附加價值。
可再生能源、來源多樣化、鮮少虛耗,用以實現能源安全。
響應國家需求並符合適應氣候變化的全球方向的綠經濟。
環保意識與有效實行責任消費與生產模式相結合。
立法、司法和審計制度
戰略方向
參與性立法制度、獨立、專業和迅速的司法制度以及有效和透明的審計制度
目標
靈活的立法和獨立的全權立法機構。

利用未來科技的快速、專業和公正的司法系統。
有效的司法系統替代方案,阿曼王國將成為全球司法系統領導地位。
全面的審計製度,保護國家資產並實現問責制。
一個有效率、獨立的審計系統,利用透明度和公開信息來打擊貪腐,媒體扮演有見地和有效的角色。
一個有法律意識的社會,可有效地參與立法和審計。
在一個有利的環境中操作專業、合格與值得信賴的國家法,司法和審計功能。
夥伴關係和角色整合
戰略方向
平衡的伙伴關係和政府的有效監管作用
目標
平衡與永續的伙伴關係,政府、私營部門、民間社會和個人的利益相關者之間應發揮綜效作用,以保有機構績效。

有效的監管制度,以激勵民間社會機構。
規範項目和公共服務私有化的治理框架。
行政機構、資源和項目的治理
戰略方向
靈活、創新、未來導向,並遵守善治的行政機構
目標
高品質的政府服務和績效。

平衡且明智的政府決策。
一個有未來導向與有效率的政府部門結構。
有效治理資源和項目。
在政府部門及其附屬機構中重要職位者任命有明確的選拔標準。
建立機構透明性和公開性,確保獲得資訊的權利。
Education, Learning, Scientific Research and National Talents
Strategic Direction
Inclusive Education, Life-long Learning, and Scientific Research that Lead to a Knowledge Society and Competitive National Talents
Goals

A high-quality educational system with communal partnerships
An integrated and independent system for the governance and evaluation of the educational system in accordance with national and international standards
Value-reinforcing curricula; mindful of the principles of Islam and the Omani identity, drawing inspiration from the history and heritage of Oman, keeping abreast of the requirements of sustainable development and future skillsets, and supporting diversification of educational tracks
A system that empowers human capabilities in the educational sector
An effective national system for scientific research, creativity and innovation that contributes to building a knowledge-based economy and society
Diversified and sustainable sources of funding for education and scientific research
National talents with dynamic and competitive capabilities and skills, both nationally and globally
Health
Strategic Direction
A leading health system adopting global standards.
Goals

A society enjoying sustainable health, with a conviction that "health is the responsibility of all".

A decentralized health system operating with quality, transparency, fairness and accountability.
Diversified and sustainable funding sources for the healthcare system.
Qualified national talents and capabilities that are pioneer in health scientific research and innovation.
Technical medical systems and services, and a high-quality preventive and clinical healthcare across all levels.
Citizenship, Identity, National Heritage and Culture
Strategic Direction
A society that is proud of its identity and a culture that reinforces citizenship
Goals

A society that is proud of its identity, citizenship and culture and which strives to preserve, document and promulgate its heritage worldwide

An integrated, institutional and communal partnership system that reinforces identity, citizenship and social cohesion
A knowledge-based and skilled society that is aware and mindful of its identity, and keeps abreast of the latest knowledge developments
Sustainable investment in heritage, culture and arts, that contributes to growing the national economy
A society that is capable of assessing, analyzing, exploiting, producing and disseminating knowledge
A globally leading society in mutual understanding, coexistence and peace
A society of responsible members who recognize their rights and are committed to their obligations
A professional media that reinforces the societal awareness and contributes to social and economic development
Welfare and Social Protection
Strategic Direction
A Decent and sustainable life for all
Goals

A society enjoying insurance coverage through an active, sustainable and equitable social safety network

An aware and cohesive society that is socially and economically enabled; especially women, children, youth, disabled persons and the most vulnerable segments
Advanced social services and programs fulfilling the needs of the society
Integrated social protection schemes targeting the most vulnerable segments, enabling them to be self-dependent and contribute to the national economy
Effective partnership between government sector, private sector and civil society in the fields of social development
A civil society that is enabled and effectively participates in sustainable development
Enabling environment and systems for a sport that contributes to the economy and is globally competitive
Economic Leadership and Management
Strategic Direction
A dynamic economic leadership possessing capabilities and operating within an integrated institutional framework
Goals

Unique reference unit at the policy level that enables the economy and operates to achieve the goals of economic development and social justice

Effective economic leadership with established authority, a clear mandate, and a swift response to developmental needs – as per specific performance indicators
A reviving administrative leadership equipped with capabilities that fit future needs, market dynamics, and emerging changes
An effective and enabling economic legislation system that is abreast with recent developments
Economic Diversification and Fiscal Sustainability
Strategic Direction
A diversified, sustainable and competitive economy that is based on knowledge and innovation, operates within integrated frameworks, adapts with the industrial revolutions, and achieves fiscal sustainability
Goals

Leading sectors to achieve economic diversification and integration with sub-sectors to be identified every five years

A diversified, integrated and competitive economy that is future-oriented and is driven by innovation and entrepreneurship
Well-versed, integrated and sustainable fiscal, monetary and economic policies; together with budgets that effectively utilize public revenues
A regulatory environment that is flexible and abreast that ensures equal opportunities
Advanced technological infrastructure that is enabling for all sectors and capable of accommodating latest developments and cyberspace security challenges
An integrated and cohesive research and development system amongst various sectors and institutions
Labor Market and Employment
Strategic Direction
A dynamic labor market that is attractive to talent and responsive to demographic, economic, knowledge and technical changes
Goals

A labor market with skilled and highly-productive manpower and a positive work culture

A labor market that attracts talent and skilled labor within clear and standardized recruitment policies
An employment, qualification, promotion and incentives system that is based on efficiency and productivity and which merits initiative and innovation
Laws and legislations regulating the labor market in accordance with professional standards, within a stimulating and responsive work environment
The Private Sector, Investment and International Cooperation
Strategic Direction
An enabled private sector driving a competitive economy that is integrated with the world economy
Goals

A competitive business environment that attracts investments, in which the government assumes a regulatory role coupled with successful, efficient and seamless management

Flexible and facilitated financing patterns that keep pace with global developments and fulfil investment needs
An enabled and competitive private sector that leads the economy and observes both economic and social dimensions
Partnership and integration between SMEs, embraced by large corporations
Active partnership between the government and the private sector, improving production efficiency
Diversified imports and exports in terms of goods and geographical aspects that maximize the ability to capitalize on the Sultanate's global status and geographical location
A unique economic identity that integrates with the global production and service chains
Sustainable Development in Governorates and Cities
Strategic Direction
Geographical sustainable development that follows a decentralized discourse, develops a few urban centers, and utilizes land in an ideal and sustainable way
Goals

Balanced and equitable development, enhancing the competitive and comparative advantages of urban areas and governorates

Enabled local communities to formulate their social and economic priorities and operate within a framework of administrative and economic decentralization
An efficient settlement hierarchy system that guides sustainable urban development to accommodate growing population and provide access to public services and utilities
Highly protected urban and rural areas, cultural and natural heritage reserves, that are flexible and highly capable of dealing with climate change effects
Smart and sustainable cities and a vital countryside with a high urban quality for living, working and leisure
Facilitated, diversified, and accessible means of transport, integrated with a sustainable world-class infrastructure and soundly-directed urban development
Natural Resources and Environmental Sustainability
Strategic Direction
Balanced utilization and sustainability of natural resources, to support energy security and the national economy
Goals

Food and water security that is based on renewable resources, advanced technologies and ideal exploitation of the Sultanate's strategic location and its biodiversity

A protected environment that achieves a balance between environmental, economic and social requirements and works within sustainable development rules
Sustainable utilization of natural resources to achieve high value-added
Renewable energy with diversified sources and a reduced consumption to achieve energy security
A green and circular economy that is responsive to national needs and consistent with the global direction of adapting to climate change
Environmental awareness combined with an effective implementation of responsible consumption and production patterns
Legislative, Judicial and Audit System
Strategic Direction
A participatory legislative system, an independent, specialized and swift judicial system and an effective and transparent audit system
Goals

Flexible legislations and an independent fully-empowered legislative authority

Prompt, specialized and impartial judicial system, utilizing technologies of the future
Effective alternatives to the judicial system, deeming the Sultanate a global hub in this regard
A comprehensive audit system that protects national assets and realizes the principles of accountability
An effective and independent audit system that utilizes transparency and disclosure to combat corruption, with the media assuming an insightful and effective role
A legally-aware society that effectively participates in legislation and audit
Specialized, qualified, and trusted national legislative, judicial and audit capabilities, that operate in a conducive environment
Partnership and Integration of Roles
Strategic Direction
A balanced partnership and an effective regulatory role for the government
Goals

Balanced and sustainable partnership with integrated roles between stakeholders from the government, private sector, civil society and individuals to ensure effective institutional performance

Effective regulatory framework that motivates the work of civil society institutions
A governance framework that regulates privatization of projects and public services
Governance of the Administrative Apparatus, Resources and Projects
Strategic Direction
An administrative apparatus that is flexible, innovative, future-oriented and adhere to good governance
Goals

High-quality government services and performance

Balanced and informed government decisions
A future-oriented and effective government sector in the fields of planning, regulation, monitoring and evaluation, with a sectoral structure
Effective governance of resources and projects
Clear competitive standards for occupying leading positions in the government sector and its subsidiary institutions
Established institutional transparency and disclosure, ensuring the right to access information